Valerie Brownridge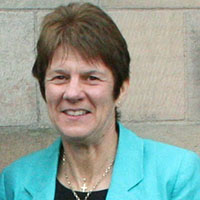 I was born in Aberdeen and lived there until 1979 when I moved to London to join the Diplomatic Service. I was still working for the Diplomatic Service when my husband and I moved to Little Marlow in 1998 and have lived here ever since. I retired from the Foreign Office in 2009 after a 30 year career culminating in my serving as Deputy British Ambassador in Zimbabwe. I decided that I would like to continue in public service and put the skills I had acquired over the years to local use. I therefore stood for the Little Marlow Parish Council in May 2011 and was elected as Councillor. I stood again for election at the May 2015 election which was uncontested. I was elected as Chairman at the Annual Parish Council Meeting in May 2015.
Since joining the Council, I have been actively involved in a number of planning issues affecting the parish, including the Local Plan, the Athletics Track and the plan to build houses on the reserve sites, particularly Abbey Barn North and South. I have worked on the devolution of services to the Parish Council and supported the Clerk in drafting and updating many of our policies and procedures. I am Chairman of the Burial Ground sub-committee and a member of a number of other sub-committees.
I am also involved in other local activities in Little Marlow. I have been a member of the Little Marlow Village Amenities Committee (the Committee which organises the Little Marlow Village Fete) since 2003 and Committee Chairman since 2011. From 2009 till August this year I was Secretary of the Little Marlow Lakes Country Park: Community Partnership, an organisation formed to create a country park in the area around Spade Oak Lake and alongside the Thames.